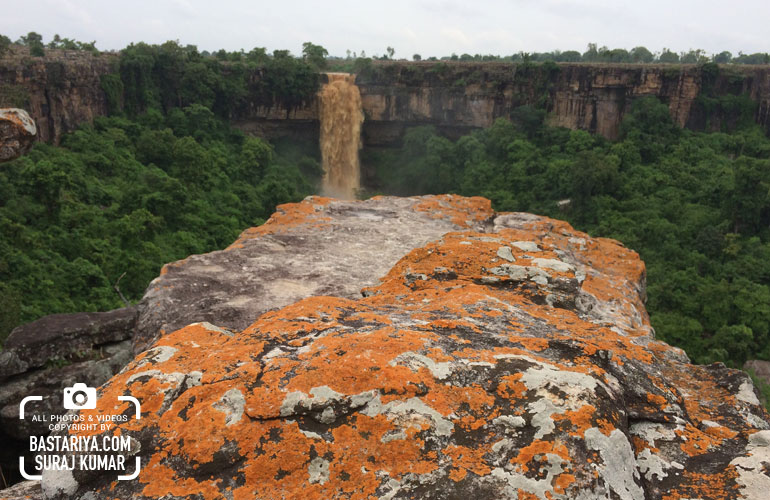 To add the beauty of Bastar, the Mendri Ghoomer Waterfall is also a breathtaking scenic place for the tourists. The more we try to unveil the Bastar district, the deeper and bigger places are found. The fewer places that are discovered are the natural beauties featuring the giant waterfalls making one of the best spots for picnic and trekking areas.
The Mendri Ghoomer Waterfall is located in the middle of Chitrakot and Barasur and situated in Jagdalpur. The Mendri Ghoomer Waterfall forms a horse shoe shape providing a stunning landscape with a height of almost 70 meters with a lush green surrounding and eye catchy places. The interesting part is that the Mendri Ghoomer Waterfall forms its best during the rainy seasons. The water collected from the rains, continuously flows through the hill thus making it an eye catchy waterfall. The Mendri Ghoomer Waterfall is surrounded by lush green forest on both its sides, making it one of the most wanted eco tourism destination in the state.
Even though the waterfall lies in a secluded location, still it is mostly viewed by the travelers and nature lovers. The waterfall is surrounded by deep valleys, forest lands and hills, making it an added advantage for the viewers. Being in a non touched area, the best way to explore the waterfall is by trek or to take a scenic drive. And the fascinating fact is that, the water collects in a small reservoir and flows downstream meeting the Kanger River.
The Mendri Ghoomer Waterfall has its own versions, during the summer and monsoons. The waterfalls are overflowing during the monsoons, wherein the water gushes slowly and calmly during the summers, sometimes no water flow as well. The waterfall has a heavy gush with a very vulnerable speed and flow during the monsoons giving no minute details to be viewed by the visitors. Contrary, during the summers, the water falls through a stepped mountain giving a different view altogether, in case the water source is present.
Being very closer to Jagdalpur, Mendri Ghoomer Waterfall also becomes a picnic spot for the people living in the district for day outings. Being less crowded, the locals prefer visiting the waterfall occasionally. The Maria tribes and their flea market are present in almost every city in Bastar. The Maria tribes would set up their flea market near the falls on every Monday. Since Chitrakot is mostly visited, the Mendri Ghoomer Waterfall and the flea market can also be covered if planned well. The waterfall is a breathtaking view in every season but to have a complete view o f the fall, monsoons are the best, hence making October to February the best time to witness the gush of the water. The fall is located 24kms from Chitrakot on NH 221 making it a must stop for sightseeing when in Chhattisgarh.