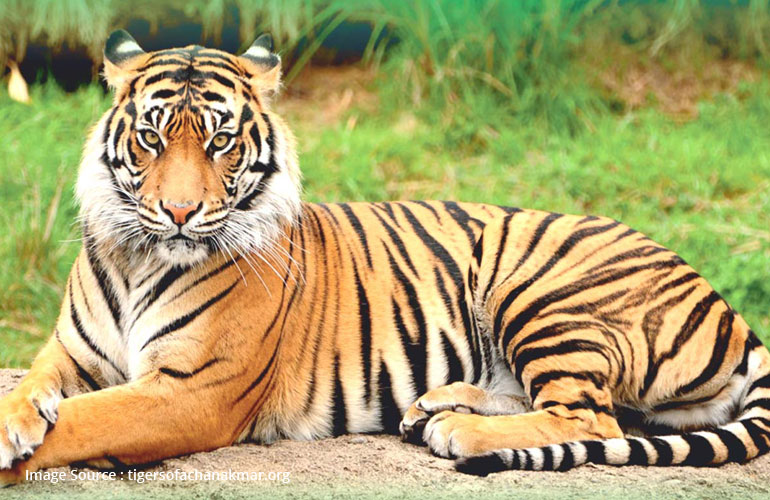 A sylvan haven made up of dense deciduous woodlands, snaking rivers, gurgling streams, placid ponds, and tribal villages, Achanakmar is a favoured haunt of the elusive tiger. British-era rest houses, jungle safaris and legends of man-eating beasts are yours for the taking a mere 60km from Bilaspur.
Wildlife
Achanakmar Tiger Reserve combines with the adjoining forests of Kanha in Madhya Pradesh to form the much larger Achanakmar- Amarkantak Biosphere Reserve a contiguous treasure trove of biodiversity, its core zone is hemmed in by the Maniyari and Bhairosang rivers and is easy to access as the Bilaspur-Amarkantak highway tunnels through its luxuriant canopy of sal, sagwan, tendu and bamboo trees (among many others). Wildlife likely to spotted include tigers. leopards mouse deer. sambhar. cheetal. wild dogs. jungle cats. gaur. flying squirrels. simians and foxes. Avian residents include peafowl. mynas. drongos. Indian rollers (neelkanth). quails. cormorants. ibis and a whole host of others. The 200-year- old Khudiya Dam across the Maniyari,  some 25km from Chaparwa village. is a birdwatcher's delight in the winter months. A number of villages accommodating largely the Baiga. Gond and Raut tribes lie scattered within the confines: efforts are on to relocate them outside the core area.
Jungle safaris
The Forest Department conducts three-hour safaris twice a day at predetermined times. Jungle-runs are generally made into the stretch between Achanakmar and Chaparwa. Another run from the Amarkantak end is made from Lamni. For use of video cameras. a permit is mandatory and must be obtained from the Chief Conservator Amarkantak, Raipur
Colonial-era rest houses
The forest rest houses at Achanakmar, Chaparwa and Lamni villages located just off the highway that runs through the reserve are all over a hundred years old. No longer used for the purpose they were built for since they fall in the core zone of a national park, their well-preserved structures still house images of fauna, flora and jungle landmarks. Though rest houses are off-limits for overnight stays, caretakers can be requested to show you around.