Danteshwari Temple Jagdalpur Bastar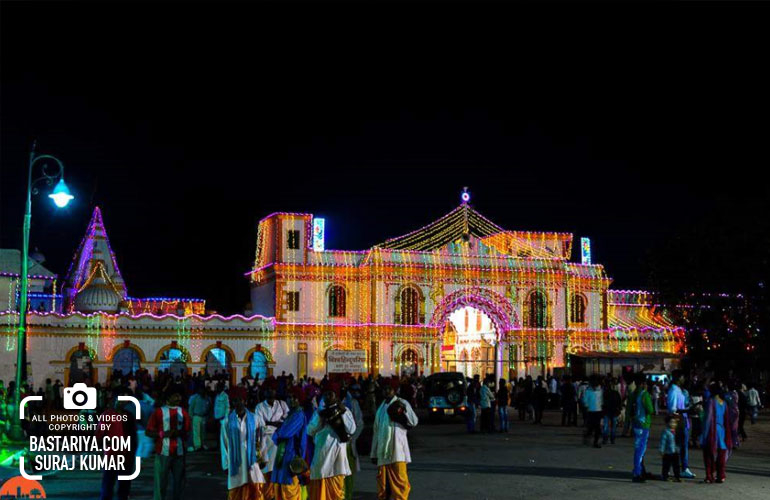 The Danteshwari Temple is a famous Hindu temple located in Jagdalpur, a city in the Bastar district of the Indian state of Chhattisgarh. The temple is dedicated to Goddess Danteshwari, who is considered to be an incarnation of Goddess Parvati.
Goddess Danteswari is the famous and the most believed Goddess in the state of Chhattisgrah, especially in Bastar. She is believed to be the Goddess of the entire Bastar. The Danteswari temple in Jagdalpur was built and constructed by kings of Bastar in order to institute their family Goddess. The Danteswari temple is very beautiful with real attractions to see like the marble stone image of the Goddess and lion carrier. At the main entrance of the temple, ten incarnations of Lord Vishnu is depicted. The temple is beautifully situated inside the Bastar palace and is specially worshipped and offered on Saturday and Tuesdays.
The Dussehra is one of the most believed and largely celebrated festivals in Bastar. The celebration of Dussehra in Bastar takes place in the Danteswari temple, the legendary temple. During Dussehra all the deities from the nearby and distant tribal villages are collected in this temple. The celebration of Dussehra in the place is completely different from how it s celebrated in the rest of the state. Basically, Dussehra is celebrated in order to honor Goddess Danteswari who is largely believed by the tribal communities.
During Saradiya Navratri the face of the Goddess is towards the South and in Chaitra Navratri, the face of the Goddess is towards the east. It is believed to be the only Shaktipitha in India where Devi is worshipped as Goddess Laxmi on Diwali. During the different festivals, the temple is beautifully decorated with twenty-four wooden pillars, images and paintings drawn by famous artists from Odisha. The temple is worth visiting during important festivals.
The temple is an important pilgrimage site for Hindus and attracts devotees from all over the country. The temple hosts several festivals and celebrations throughout the year, with the Navratri festival being the most popular one. During Navratri, the temple is beautifully decorated, and the idols of the goddess are taken out in a grand procession.
The Danteshwari Temple is not only a religious center but also a cultural hub. The temple has played an important role in the preservation and promotion of the art, music, and dance forms of the Bastar region.