Danteshwari Temple Jagdalpur Bastar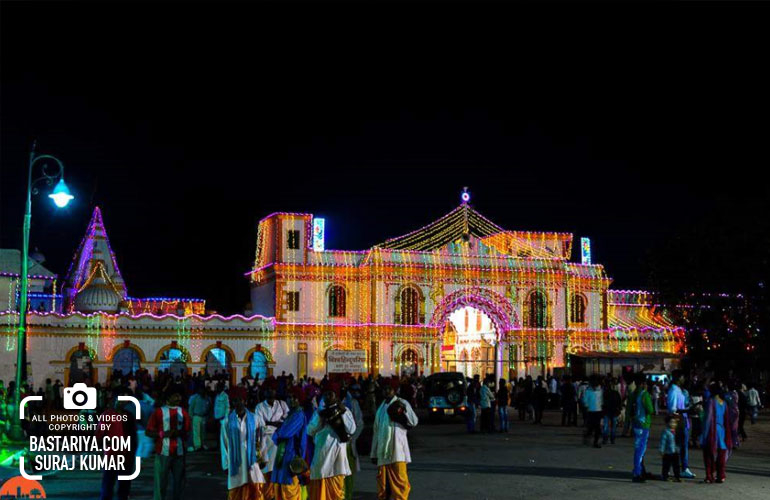 The creators of Earth and the universe are visited in India which is constructed in the form of temples. The temples are largely visited in India and hence are believed to be the highest God structures. Visiting temples not only just meets your spiritual beliefs but also gives complete peace and focus. Temples are largely visited by hard core visitors and devotees during any festivals as they seek the blessings of Gods and Goddesses on auspicious occasions. Hence, when in India one must not be surprised to see the variations India has and offers.
Goddess Danteswari is the famous and the most believed Goddess in the state of Chhattisgrah, especially in Bastar. She is believed to be the Goddess of the entire Bastar. The Danteswari temple in Jagdalpur was built and constructed by kings of Bastar in order to institute their family Goddess. The Danteswari temple is very beautiful with real attractions to see like the marble stone image of the Goddess and lion carrier. At the main entrance of the temple, ten incarnations of Lord Vishnu is depicted. The temple is beautifully situated inside the Bastar palace and is specially worshipped and offered on Saturday and Tuesdays.
The Dussehra is one of the most believed and largely celebrated festivals in Bastar. The celebration of Dussehra in Bastar takes place in the Danteswari temple, the legendary temple. During Dussehra all the deities from the nearby and distant tribal villages are collected in this temple. The celebration of Dussehra in the place is completely different from how it s celebrated in the rest of the state. Basically, Dussehra is celebrated in order to honor Goddess Danteswari who is largely believed by the tribal communities.
During Saradiya Navratri the face of Goddess is towards South and in Chaitra Navratri, the face of Goddess is towards the east. It is believed to be the only Shaktipitha in India where Devi is worshipped as Goddess Laxmi on Diwali. During the different festivals, the temple is beautifully decorated with twenty-four wooden pillars, images and paintings drawn by famous artists from Odisha. The temple is worth visiting during the important festivals.
Since the temples are worship areas hence they are flooded with visitors and pilgrims all throughout the year. The temples are mostly the areas wherein people can find peace and dwell into spirituality. Hence, devotees are always welcomed to the temple premises. Might this not be a different place of visit for Indians, but it is for people who are not from India. In fact, every temple has its own origin and is a must visit by any human. Visiting one of the greatest replicas and most visited, the Danteswari temple should be on your list to practice some peaceful and spirituality during your trip to the state that houses natural beauties, the Chhattisgarh.