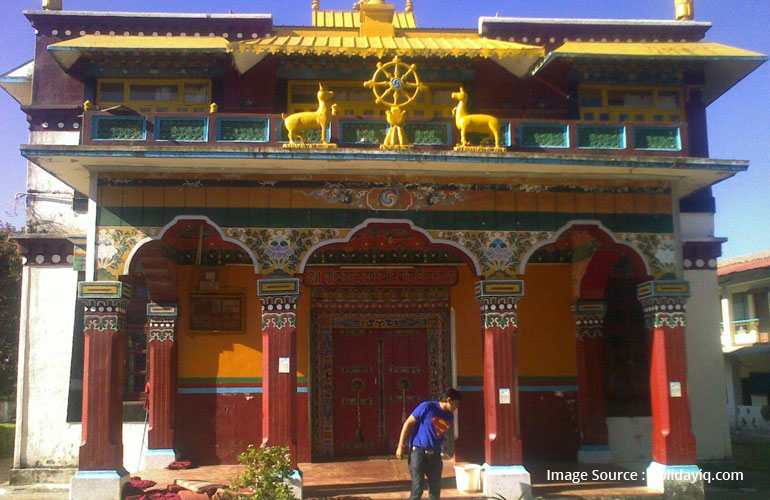 Surguja district, with its capital in Ambikapur is north of Bilaspur. According to legend, Lord Ram, spent a part of his 14 years of exile in this area, and many places in the district are associated with the divine couple, Ram and Sita, and brother Lakshman.
The ancient temple of Maa Mahamaya located here, was built by king Ratansen of the Kalachuri Dynasty in 1050 AD. The presiding deity, Mahamaya, is an incarnation of goddess Durga or Ambika, and is also the kuldevi (clan deity) of the erstwhile royal family, after whom the town is named. Samleshwari Devi Temple is another popular temple situated near Mahamaya Temple. An ancient Shiva Temple in Deogarh, situated on the banks of Renuka river in Surguja district is also very popular.
Ramgarh
A breathtaking rocky outcrop, Ramgarh lies at a height of almost 310 m. Legend goes that Lord Ram, along with his wife Sita and brother Lakhsman spent a part of their 14 years of exile here. It is believed to be the place where Kalidasa penned Meghdoot. One of the most visited spots on this mountain is the rock shelter, Sita Bengra, which translates to Sita's abode.
About eight kilometres north of Ramgarh, on the banks of the Rend river, Maheshpur is the site where 12 ancient temples dating to the time of the early Kalachuri rulers (7th —10th century AD) were discovered. A statue of the Jain Tirthankara, Brishavanatha, has also been unearthed.
Mainpat
The hilly retreat of Mainpat is locally known as the 'Shimla of Surguja' with its beautiful waterfalls, streams, dense sal forests and a veriety of fauna. It is a Tibetan Buddhist settlement. The major festival is on the occasion of Buddha Jayanti. The Buddhist temple is one of the major tourist attractions.
Dipadih
Recent excavations in Dipadih have unearthed six major and 74 minor temples, mostly dedicated to Shiva. The temples have been discovered at the archaeological sites of Samant Sarna, Urav mound (Uravtola), Rani Pokhra and the Chamunda Temple.
Kusmi
Nageshwar Shiva Temple has a self-manifesting shivalinga. The snake that is made of stone, placed on top of Lord Shiva's idol, is rumoured to cast a mystical shadow, an attraction that draws devotees from far and wide.
Jashpur
district is largely mountainous, dotted with picturesque valleys and gushing waterfalls. One of its major attractions here is Kailash Gufa, over a 100 kms east of Ambikapur, well-known for its natural stalagmite formation of a shivalinga.