Madai in Bastar Chhattisgarh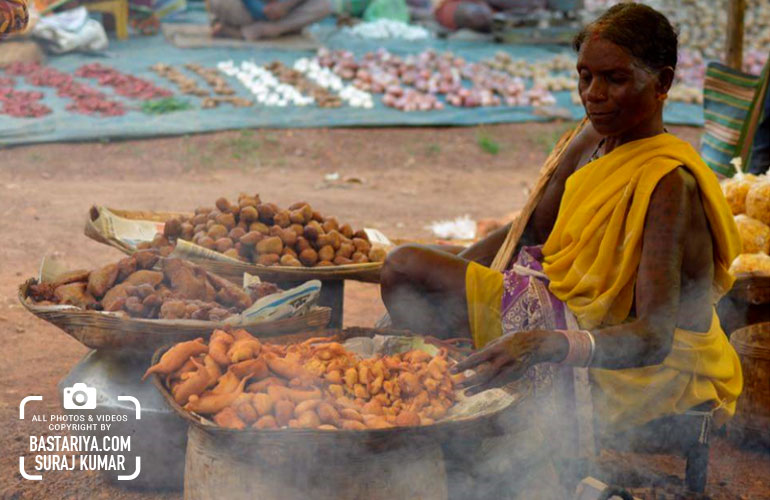 For the tribes, this is an important festival. The celebrations of this festival are carefully planned by the village headman of the host village, along with other community members.
Special invitations are sent to the deities of other villages in the form of coconut and rice. The neighbouring villages in the form of coconut and rice. The neighbouring villages have to Walk many kilometres, Sometimes 80/100 kms, accompanying,  the Special invitee deity to the host village with great ceremony. This is a moving festival and moves, throughout Kanker, Bastar and Dantewada regions from December to march.
On Poornima (full moon day) people celebrate the festival in respect of Goddess Kesharpal Kesharpalin Devi.
In January, the people of Kanker, and the adjoining areas Charma and Kurna celebrate the festival.
In the month of February, the festival is celebrated in Bastar district. there, the festival is celebrated in respect of the Cheri-chher-kin. At the end of February, the festival goes to Antagraph, Narayanpur and Bhanupratappur
In the month of March, it is celebrated in Kondagoan, Keshkal and Bhopalpattanam.
The festival is celebrated with assembling of local Gods and Goddesses/ deities and after that worship is done by the village shaman (priest cum medicine man), who plays a important part in the festival.
He is empowered by the spirit of main deity and is quickly joined by his fellow mediums. The entire show takes in the proportion of a great mela.
In the festival procession, the host deity is kept at the front and deities follow the host deity.
In the next morning, the deities return after a colourful farewell, to their homes.
The congregation of deities is a colourful and dramatic affair.
This festival is a means to meet relatives, Settled in different villages and to purchase year long, supply of daily needs like salt and oil etc.
A lot of crafts, dances and other cultural programmes can be seen in this festival. Although the festival is of tribes, all the communities have faith and all celebrate and enjoy.
The media festival at Narayanpur is one of the most popular festivals of the area.