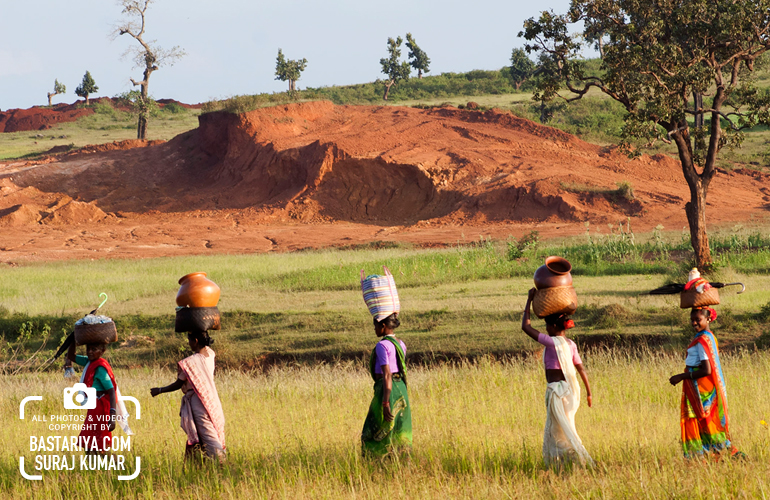 A part from having the distinction of being the largest tribal district of India, Bastar is also one of India's Richest Biospheres – Bastar The tribal people here are fiercely protective of their cultural heritage and worship nature in all its myriad forms-trees, rivers, waterfalls and natural caves. Their Shrines are simple, unadorned often in the form of a Simple shelter beneath a tree, with a humble votive offering of terracotta lamps and animal figurines of horses, bulls, snakes and elephants.
The tribes of Bastar are divided into Gonds and non-Gonds; Gonds include the Bison Horn and Hill Marias. Other tribal groups like the Halbas, Dhurvas and Bhatras fall in the Non-Gond category.
The main tribes of Bastar are the Halbas, Bhatras, Gadbas, Murias, and Marias. As well-Known Sociologist Verrier Elwin quotes in his book Leaves from the jungle: Life in a Gond village, Ptolmey referred to them as leaf-clad Gondali' and Abul Fazl in Ain-i-Akbari said that the Gond tame lions, so as to make them do anything they please.
Home of these animist tribes, the region has a unique appeal. TravelAitken writes in Discovery on wheels,'for all their apparently primitive ways, the tribals enjoy a close report with nature that urban visitors can only envy'. In addition to its rich cultural heritage and natural bounty, Bastar also finds a mention in Hindu mythology as the location of the Dandakaranya forest of the Ramayana that Lord Ram visited during his exile from Ayodhya.