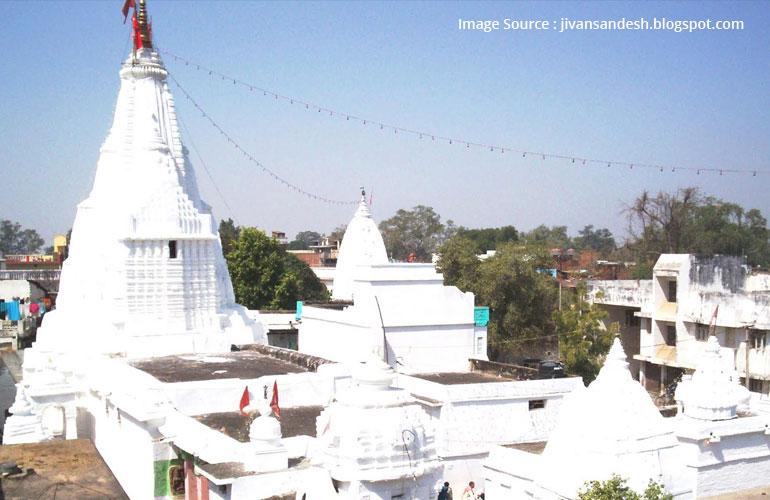 Popularly called the Land of Vishnu, Seorinarayan is located in Janjgir-Champa district. Situated at the holy confluence  (Triveni) of three rivers, Mahanadi, Seonath and Jonk, Seorinarayan is immersed in history, myth and It is said that this was the home of Shabari, a disciple of Lord Ram.
One of Swaminarayan's most celebrated temples is Nar Narayan, an extant brick structure, believed to have been built by Shabari. To the left of the main entrance is an ancient sculpture of Laxmi-Narayan, surrounded by beautiful sculptures of all the avatars of Vishnu. The garbhagriha of the temple has a beautiful image of Narayan which was discovered during an excavation.
Shabari was an ardent devotee of Lord Ram who lived in an ashram in Seorinarayan. One day her guru told her that Ram and his brother Lakshman would visit the ashram. On learning that the great prince of Ayodhya would visit her home, she was filled with joy and began to decorate her cottage with wild flowers. Many, many moons later, when Ram finally did come, Shabari was least prepared. She plucked a few berries and offered it to her divine guest. To ensure that the berries were sweet, she tasted every single berry before offering it to him. The onlookers were shocked at her audacity but kept quiet in the presence of the man they worshipped as God. On their part, they made a request to their divine guest to restore water to a dry well. Ram pronounced that the well would have water only if Shabari bathed in it. Once she did, water gushed into the well. From then on, Shabari has been recognised as one of the Ram's greatest disciples.
Opposite Nar Narayan is the Keshav Narayan Temple, also called the Shabari Temple, which dates to the 12th century. The garbhagriha of this temple houses an ancient Vishnu sculpture.
Chandrachur Mahadev Temple, next to Keshav Narayan, is an ancient Shiva temple built in the 10th century. This is the only Shiva temple in this 'Land of Vishnu'.
Adjacent to the Nar Narayan Temple is a small shrine that preserves a set of footprints which are believed to be those of Lord Ram. Built in 1927, the Jagannath Temple is the newest temple here and bears a striking resemblance to the Jagannath Temple at Puri. Next to the temple is an old peepal tree which is popular among locals as Krishnavat or Makkhan Katori. A huge Mahashivaratri Mela is held in the temple premises every year.
Kharod
On entering Kharod, three kilometers from Seorinarayan, one is greeted by the sight of a beautiful lake with temples built on its banks. The most revered among these is the Lakshmaneshwar Temple. Built by the Chandravanshi Rajput rulers of Sirpur, the temple has yielded an inscription which dates it to the 8th century. Another inscription here, which dates back to 1192 AD, gives a complete genealogy of the Kalachuri Dynasty from king Kalingaraja to Ratnadeva. The linga housed in the garbhagriha is unique in that it is riddled with around 1,25,000 perforations. It is believed that while returning from the successful conquest of the island of Lanka, Lakshman was afflicted with leprosy at this very spot. He prayed to Shiva and built 25,000 lingas. The great god was pleased with Lakshman's prayers and cured him of his afflictions.