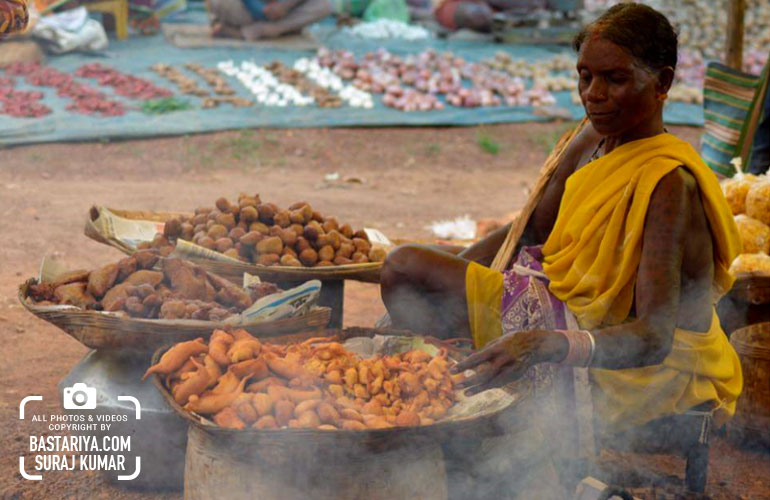 The tribal recipes of Bastar are famous.
The weekly markets in rural Bastar team with a variety of local cuisines. Drinks like Salphi, Mahua, and Landa (rice beer) are sold in these markets. Fish and other items are also part of tribal cuisines.
The tribes add various types of fruits that are commonly found in the forest area in their diet. Rakhia Badi and Petha are two distinctive food items that are prepared by tribal people, during major festivals. Many international chocolate brands uses the Bastar Sal butter as a raw material.
Preparation of food in festivals is a group activity. The older woman becomes the head chef. One of the younger women clean the rice, while another one chops the vegetable and another person gives plates/bowls made of leaves, in which one has to eat a meal. Cooking a simple meal over a wood fire will take over one hour.
Jawar, Maize and Rice are the staple food of the area. Bastar's food is probably the closest to the original stuff, first cultivated by man, as pesticides are rarely/never used here, especially in interior areas of Bastar.
Adivasis have for eons made innovative use of ingredients found in the wild. While certain delicacies from the tribal kitchen are not for the fainthearted, the local cuisine is well worth a try for an insight into how the jungle-dwelling people of Bastar sustain themselves.
Food
Search for specialties in haats or ask a guide to arrange for a meal at a tribal home.
Cereals
With more than 12,000 varieties of rice in the state, it is no surprise that it forms a major part of the diet. Kosra (Foxtail Millet) and Mandia (Finger Millet) are also popular grains. A rice, corn and Mandia stew known as Paige is often eaten as an alternative to rice. Wheat has no place in tribal kitchens.
Fresh Produce
Aubergines, Potatoes, Leafy greens, Local beans, Root vegetables, Tomatoes, Tamarind, Custard apples, and jackfruit are staples, Bamboo shoots and jackfruits seeds are also consumed.
Meat and Poultry
There are few restrictions on meat. A bubbling pot of curry could contain anything from chicken to crabs, beef or even reptiles.
Snacks and Desserts
Traditional kitchens do not use any oil or milk, but a rice=and-lentil fried snack called bolo is a big favorite. Also try Soju, a jiggery-sweetened dessert that resembles a barfi.
Brews
Alcoholic brews are an essential component of the tribal menu, and it is not uncommon to see women and even children downing the potent stuff.
Salphi
A forthy white beer made from the sap for the fishtail sago palm and drunk from a container made of groud (known as Tumba). The sap is tapped once every morning and evening at fixed times, thrice in summer. Many adivasis believe that salphi cures diabetes and serves as an antiseptic.
Mahua
Large mahua trees grow in almost all parts of Bastar, yielding summer flowers that are processed to make a colorless but punchy drink.
Landa
Made from fermented rice, this white brew is a type of unfizzy beer.
Rusum
Made with jiggery and not so easy to source. You do stand a good chance of spotting vendors selling this brown bew at Tokapal Haat.