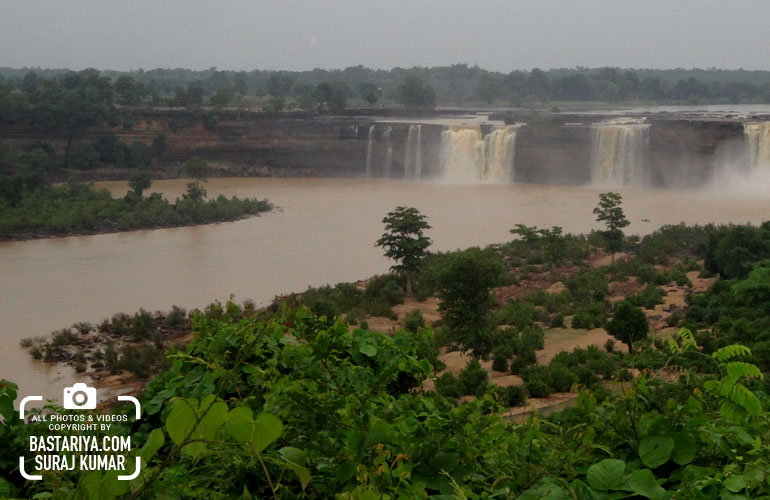 River Indrawati the main geographical feature of the district, flows across the southern limit of it with a tortuous course. It enters this district from Orissa near the confluence of its tributary, the Bhaskar, 13 miles upstream of Jagdalpur At Chitrakoot, 24 miles by road and 35 miles by river downstream from Jagdalpur the Indravati plunges off the edge of the 2000 feet plateau of north-east Bastar in a beautiful horse-shoe fall. 94 feet high. On reaching the western border of the district, it turns to the south and forms the district boundary until it joins the  Godavery below Siochana.
Other important rivers of the surrounding are the Sabari the Tel, the Narangi, The Gudra, the Net Bharat, the Kotri, the Dsntewara, the Dudh and the Mahanadi. The Sabari forms the boundary of the district with Orissa State in the east for about 77 miles. The Tel raises in the district and flows southwest to the Godavery.
The Narangi and the district Baordig are the two important tributaries of the Indawati draining most of the northeast areas of the district. The Gurda, the Nei Bharat and the Kotri are the tributaries of Indrawati debouching into it from the north, the former two take into them most of the drainage from the Abujmahar hills. The Kotri are Paralkot river rises in the Panabaras area of drug district and flows south via Pratapur and by the side of the Paralkot range.
The Kotri and the Nei Bharat join the Indrawati in a trijunction of unforgettable beauty beneath the forefield rocks of the Bhairamgarh in a wild expanse of hills and forest unbroken by a single clearing. The Dudh raises about 15 miles west of Keskal and flowing north-east via Kanker town joins the Mahanadi. Except for the rivers in the extreme north-eastern parts of the district, the drainage system of Bastar district comes under the Godavari drainage